I wonder if it is a muslim?
Up to 9 Dead As White Van Hits Pedestrians in Toronto, Driver Described as 'Angry and Middle Eastern'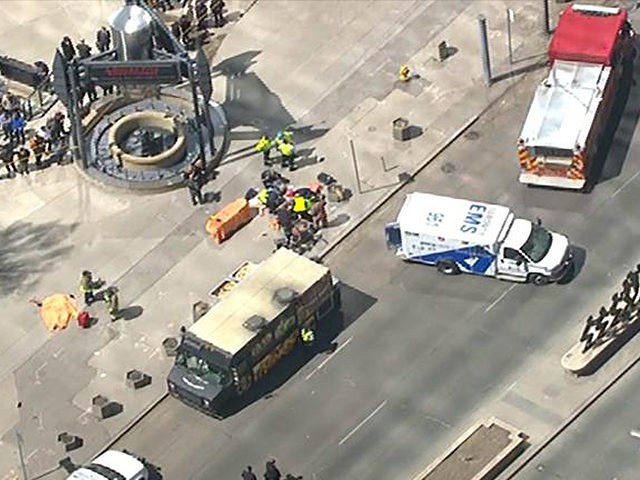 Update, 7:15 PM Eastern: CBC News posted video of the police confrontation with the suspect, who can be heard yelling "Kill me, I have a gun in my pocket, shoot me in the head!" and brandishing an object at the officers.
Update, 7:05 PM Eastern: "Our thoughts are with all those affected by the terrible incident at Yonge and Finch in Toronto. Thank you to the first responders working at the scene – we're monitoring the situation closely," Canadian Prime Minister Justin Trudeau said via Twitter.
Sunnybrook Hospital reports that ten victims were brought to its trauma center. Two of them died, five are in critical condition, two are in serious condition, and one is in fair condition.
Public Safety Minister Ralph Goodale described the incident as an "attack," but would not confirm whether it has been classified as a terrorist attack. As a precaution, security has reportedly been increased at the Air Canada Center in downtown Toronto for the Stanley Cup playoff game tonight.
Update, 7:00 PM Eastern: NBC News reports that Minassian "allegedly researched and chatted online about the Isla Vista killings from 2014."
The Isla Vista massacre near UC Santa Barbara was a carefully prepared killing spree perpetrated by 22-year-old Elliot Rodger using a vehicle, knives, and firearms. Mental illness, a keen interest in Nazi Germany, and rage at women because he couldn't get a girlfriend were all cited as motivating factors for Rodger.
Update, 6:45 PM Eastern: CBS news has claimed to have identified the driver of the van as 25-year-old Alek Minassian while U.S. sources have told Reuters that terrorism is the leading theory for the motivation for the attack. Toronto police have not confirmed the identity of the suspect in the attack and a press conference is scheduled for later this evening.
Canadian broadcaster CTV has confirmed that Minassian is the suspect in police custody, though Toronto police claim that he was not previously on their radar.
***
Original story follows:
Police in Toronto reported multiple injuries and fatalities after a white van struck pedestrians at the busy intersection of Yonge Street and Finch.
The incident occurred in the early afternoon at the intersection which lies close to the Finch subway and bus station, one of the busiest transport hubs in the city of Toronto. One suspect appears to have been arrested.
Newstalk 1010 reports that up to 9 people are dead following the attack.
Witnesses told local TV crews that the driver was traveling at around 45 miles per hour, "crumbling up people" and taking the action "intentionally".
Photos, which has been posted online show multiple people on the ground as a result of the incident. The Toronto subway system, known as the TTC, has shut down service to Finch station in response.
Toronto police are now reporting multiple fatalities following the incident which has seen a man, described as being "Middle-Eastern" in appearance, arrested a short distance away.
The van used in the incident appears to have been rented from the Ryder truck rental company according to photos posted on social media.
Canadian Prime Minister Justin Trudeau gave a brief statement to the media in the houses of parliament in Ottawa, sharing his condolences for the victims and their families. "Obviously we're just learning about the situation in Toronto. Our hearts go out to anyone affected. We're going to obviously have more to learn and more to say in the coming hours," he said.
Alex Shaker, who was driving at the time of the incident and witnessed the van hit multiple people, told CTV News: "He started going down on the sidewalk and crumbling down people one by one. He just destroyed so many people's lives. Every single thing that got in his way." Shaker also claimed that one of the victims had been pushing a children's stroller.
MORE FOLLOWS…