The author who wrote Clinton Cash and sparked an FBI investigation into the Clinton Foundation is preparing to launch his highly anticipated investigative follow-up—a book that appears it will be every bit as explosive as his last.
On Monday, publishing giant Harper Collins released the book cover of Government Accountability Institute President and Breitbart News Senior Editor-at-Large Peter Schweizer's forthcoming book, Secret Empires: How Our Politicians Hide Corruption and Enrich Their Families and Friends. While little is known about the book's contents, five images on the book's cover suggest that Schweizer's next targets may include Senate Majority Leader Mitch McConnell (R-KY), former Vice President Joe Biden, former President Barack Obama, former Secretary of State John Kerry, and President Donald Trump's son-in-law Jared Kushner.
According to the publisher, Secret Empires will expose vast corruption by top Washington figures who leverage their political power to enrich their family members and friends, often by helping grease deals with foreign entities.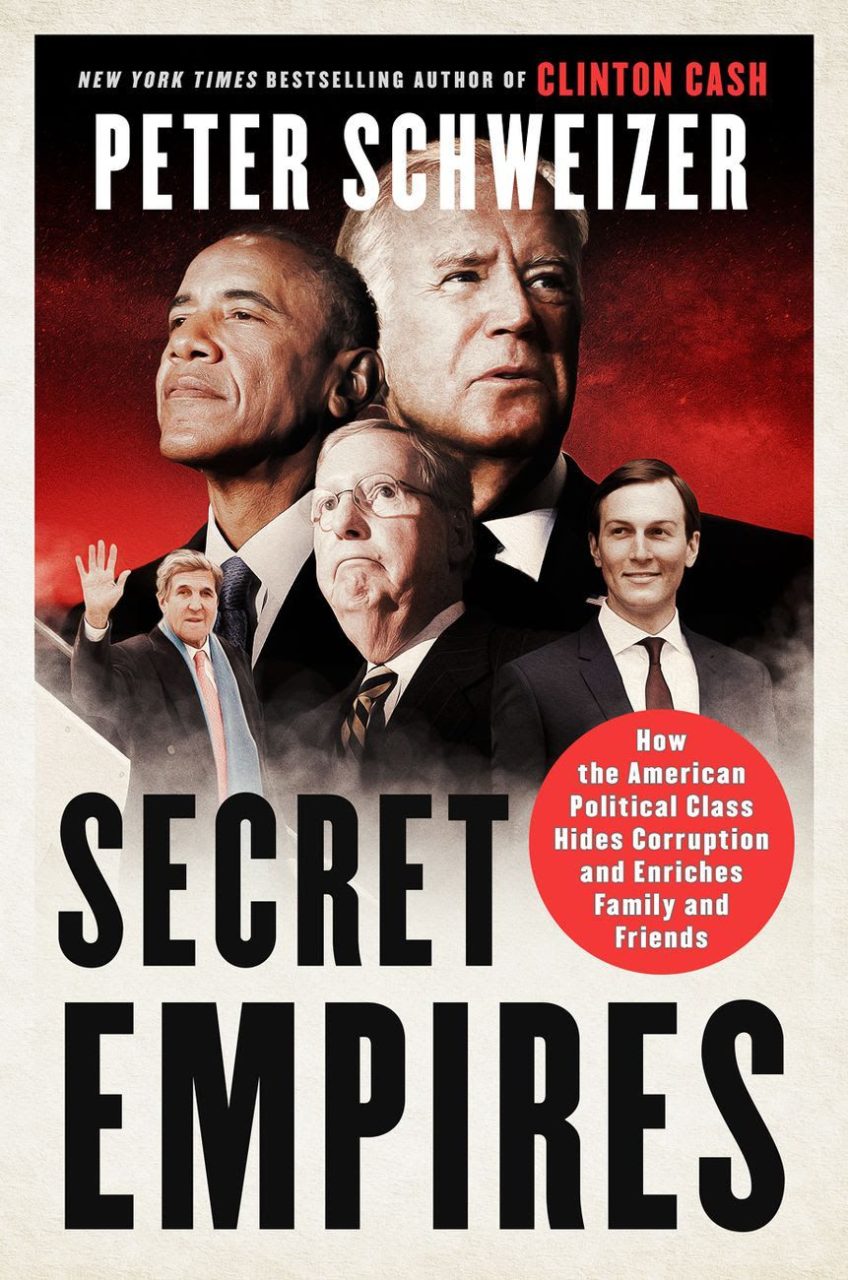 The author of four major New York Times bestsellers, Schweizer has garnered praise from conservatives and progressives alike for his reputation as a nonpartisan deep-dive investigative journalist. Newsweek dubbed him "the wonk who slays Washington." Indeed, among Washington insiders, the launch of a Schweizer book is regarded as somewhat of an event—one that has resulted in ethics probes, the passage of major anti-corruption legislation, members of Congress stepping down, and, in the case of the Clintons, an FBI investigation.
In 2012, 60 Minutes based a feature report on Schweizer's book Throw Them All Out that exposed congressional insider trading by members of Congress. The 60 Minutes report won the Joan Shorenstein Barone Award for excellence in Washington-based journalism. After Schweizer's revelations, Congress overwhelmingly passed a bipartisan bill called the STOCK (Stop Trading on Congressional Knowledge) to ban lawmakers from using insider knowledge to make personal stock trades. As left-leaning Slate noted, Schweizer wrote "the book that started the STOCK Act stampede." One of the main targets of the book, the powerful chairman of the House Financial Services Committee Spencer Bachus (R-AL), announced he would not seek reelection following the book's revelations.
In 2013, Schweizer released Extortion: How Politicians Extract Your Money, Buy Votes, and Line Their Own Pockets and sparked the resignation of Rep. Rob Andrews (D-NJ). Schweizer revealed that Andrews used $16,575 from his leadership PAC to jet he and his family to a lavish resort in Edinburgh, Scotland. CBS's 60 Minutes partnered with Schweizer again to report Extortion's findings. Following Rep. Andrews's resignation, Schweizer said: "The Government Accountability Institute (GAI) is a nonpartisan investigative research team committed to exposing cronyism and misuse of taxpayer money. For those discouraged by the cronyism corrupting Washington, the Andrews resignation demonstrates that we can hold them accountable. For those in power who are engaging in self-enrichment, we have two words: watch out."
Then in 2015, Schweizer sent shockwaves through Washington, DC, with the release of Clinton Cash. The book revealed that Hillary Clinton's State Department, along with eight other agencies, approved the transfer of 20 percent of U.S. uranium and that nine foreign investors in the deal funneled $145 million to the Clinton Foundation. The New York Times ran a 4,000-word front-page story based on the book and confirmed its findings, as did the Washington Post and several others. Hillary Clinton's campaign kicked into overdrive trying to refute the book's myriad revelations. Surprisingly, some of Schweizer's strongest defenders came from the political left. Progressive columnist Eleanor Clift hailed Schweizer "an equal-opportunity investigator, snaring Republicans as well as Democrats." And Columbia University Earth Institute Director Jeffrey D. Sachs said Clinton Cash was "compelling reading on how Bill and Hillary have mixed personal wealthy, power, and influence peddling."
A feature-length documentary film based on the book debuted at the Cannes Film Festival and also received wide praise. MSNBC said the film was "devastating" and that it "powerfully connects the dots."
Later, in November 2016, the New York Times reported that an FBI investigation into the Clinton Foundation "was based mostly on information that had surfaced in news stories and the book Clinton Cash, according to several law enforcement officials briefed on the case."
Will Secret Empires result in a similar political firestorm? For now, Schweizer isn't saying.
"My publisher has me under a strict embargo not to reveal any contents from the book," Schweizer told Breitbart News.
According to HarperCollins, Secret Empires is slated to hit bookshelves nationwide March 2oth.
http://www.breitbart.com/big-government/2018/01/29/it-begins-secret-empires-book-set-to-rock-official-washington/