Iran Sends Millions To Terrorist But Many Of Their People Live Like This.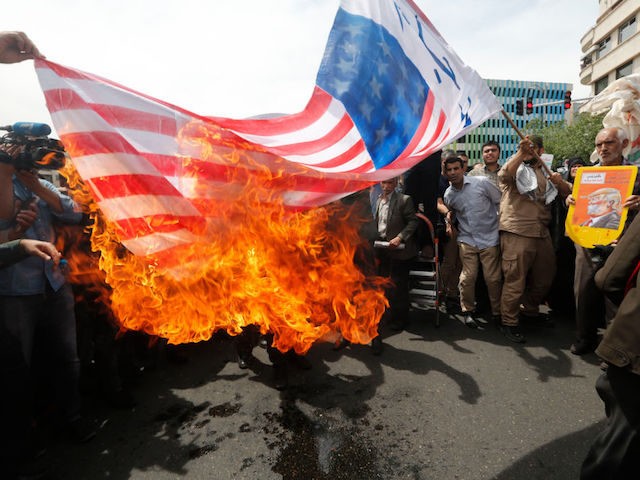 The Iranian regime orchestrated a series of anti-American protests in response to President Donald Trump's decision to exit the Iran nuclear deal and featured supporters throughout the Islamic Republic who gathered after Friday's prayers.
"Mr. Trump, you are talking nonsense," placards held by pro-regime, anti-American protesters read in Tehran and other cities, according to Iran's state-run Press TV.
Press TV noted that the protesters were "mostly participants at weekly Friday Prayers":
The protesters reportedly chanted, "Death to America," "Death to Israel," and "We fight, we die, but we do not accept any compromise":
Iranian members of Parliament set a U.S. flag on fire and chanted, "Death to America" hours after Trump announced on Tuesday the United States was exiting the Joint Comprehensive Plan of Action (JCPOA). The MPs also torched a symbolic copy of the Iran deal before vowing to increase spending on their ballistic missile program.
During his Friday sermon, prayers leader Ayatollah Ahmad Khatami reportedly said, "In his speech, Trump told at least 10 lies against our nation and made insults and accusations. The answer to all that nonsense is what this great nation has always been saying: 'America is dead wrong' and 'Mr. Trump, you are talking nonsense.'"
On Thursday, in Iran's northeast province Mashhad, Iranian teachers protested outside the office of the Plan and Budget Organization and the local offices of the Department of Education against the regime and called for a higher education budget and income:
According to Iran News Update, "The protesters denounced the regime's attempts to privatize education in the country. They complained that the regime pays no attention to the level of education for Iranian students. The protesting teachers demanded the release of their imprisoned colleagues. They stated that teachers' place is in the classroom, not in prison."
http://www.breitbart.com/national-security/2018/05/11/death-america-iran-stages-anti-american-protests-nuclear-deal-withdrawal/