Does Psycho Joe Know what happened to Lori Klausutis?
With recent attacks on President Donald Trump and accusations of threats of blackmail by Joe Scarborough and Mika Brzezinski, the daughter of the co-founder of the Trilateral Commission Zbigniew Brzezinski. Some information about Scarborough's past has come to surface.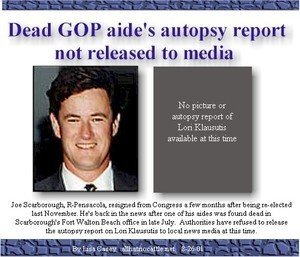 No matter what you believe about the exchange between Trump and the two MSNBC hosts the following information is more important than allegations of behavior between the two because it involves the death of a young intern Lori Klausutis and the subsequent cover up. I won't be looking at the speculation of any of the drama. I draw no bias to either side or conclusion until evidence is presented instead, I'll be examining the case of Klausutis who was found dead in Scarborough's Fort Walton Beach office.
Scarborough used to serve as a U.S. Republican Congressman from Florida's 1st District from 1995 – 2001, he shortly resigned five months into his fourth term in September 2001. Two months before his resignation on July 20th, 2001, his intern Lori Klausutis was found dead inside his office on his floor.
Her body was discovered by a couple who wanted to speak to Klausutis about a work permit issue they had.
However, the once respected news agency CNN reported that Scarborough was set to reign as early as May 2001. So the death of his aide probably didn't have anything to do with his resignation.
Scarborough's office released the following press release on Klausutis' death:
"My staff and family are greatly saddened by the loss of Lori Klausutis. I know Lori will be missed by the thousands of citizens who regularly contact my office to seek assistance with a variety of problems. May God grant Lori's family the grace, comfort, and hope that will get them through this difficult time," Scarborough's office said.
Scarborough claimed that he had resigned "in order to spend more time with his children."
"In the last month or two, I've had thousands of different rumors launched against me. I'd rather keep this private right now," he added.
The story of the death of Klausutis was swept under the rug and was barely covered by the media perhaps because two months later on September 11th the largest terrorist attack on American soil occurred or maybe the media didn't see significance in covering the mysterious death of a young woman?
Fort Walton Beach Police Chief Steve Hogue said that preliminary findings from the medical examiner's office of Dr. Michael Berkland showed "no foul play or any outward indication of suicide."
So how did Klausutis die then?
The official autopsy report stated her death was an "accident" attributed to – "undiagnosed cardiac arrhythmia" and due to this fact her "breathing stopped she fell and hit her head, on an office desk and died," Berkland said.
Scarborough's press secretary, Miguel Serrano also stated that Klausutis had known prior "health conditions" but didn't provide specifics when questioned. And Scarborough himself told reporters that she had a "complicated medical history" including "stroke and epilepsy."
Which an immediate family member disputed and denied stating she had no prior "health conditions" since she was a documented marathon runner who had recently run an 8K with a respectable time and she belonged to the Northwest Florida Track Club.
On August 29th, 2001, two Fort Walton Beach police officers  Stephen Sequeira and crime scene expert Dusty Rhodes who witnessed the autopsy of Klausutis, said that her "skull had been fractured," reportedNWFDailyNews.
But this was never taken into account in the final autopsy report, and Dr. Berkland stated knowledge of the injury was insignificant and was simply just from the cause of her fall.
"We know for a fact she wasn't whacked in the head because of the nature of the injury," Berkland said, downplaying the woman's injury.
Then on Sept, 1st 2001 Dr. Berkland released the autopsy report of Klausutis' death an 18-page document stating he wanted to "extinguish the fires Of speculation" surrounding the case.
Reiterating his previous claims the report stated that Klausutis had "died from striking her head on the edge of a desk in the office. The fall that caused her to strike the desk was likely triggered by an undiagnosed heart condition known as floppy mitral valve disease, which is typically marked by abnormal heart rhythms."
Berkland noted his report was backed up by two people, including a postal worker and co-worker of Klausutis a woman identified as Tiffany Bates, both said she told them she was "anxious and did not feel quite right" prior to her death.
There was no sign of a break-in or struggle. However, a security guard Don Graham, owner of D-Train security company, stated that he "may have missed" checking to see if the doors at Scarborough's office were locked.
Scarborough himself has an alibi he was in Washington at the time of her death according to a report by the  Pensacola News Journal.
Despite these facts several questions remain, as  Denis Wright and Chris George, AMPOL (American Political Journal) pointed out.
 1. "Were Lori's medical records thoroughly examined for  any evidence of the pre-existing heart condition? It would seem that  someone must have examined her heart if she ran 8Ks.
2. "Did Dr. Berkland personally examine the site of death in  undisturbed condition in order to support his later conclusion that the  physical evidence was compatible with his later conclusions?
3. "Presumably the heart valve condition alluded to is Mitral  Valve Prolapse. This may be associated with arrhymias, but rarely with  VTach (Ventricular Tachacardia) or VFib (Ventricular Fibrillation), the  only arrhythmias which would stop the flow of blood to the brain.
 4) If Lori's death was just a  simple accident, then why did Rep. Scarborough and his spokesman Miguel  Serrano feel the need to go to two different local TV stations within three hours of her body's being found and invent a nonexistent history of chronic medical conditions for
her — in other words, why did they feel the need to lie about Lori's health?
5) Would you trust without question the word of a Medical Examiner who lost his ME license in two separate states  (Missouri and Florida) because he LIED about his autopsy work (for  instance, saying he had autopsied some brains when he hadn't)?
6) Why should whoever wrote Ms. Klausutis' obituary feel it was appropriate to mention nearly everything about her life — EXCEPTwhere she'd been working since 1999?
7)  Dr. Berkland and his supervisor at the time, Dr. Gary Cumberland were  known to be high-giving donors to Scarborough's Congressional campaigns.  Did their relationship with Scarborough influence any and all the  results issued by the M.E.'s Office?
Curiosity also peaks when you learn medical examiner  Dr. Berkland's medical license in the state of  Missouri was revoked in 1998 as a result of him reporting false information regarding brain tissue samples in an 1996 autopsy report.
He moved to Florida in 1997 and in July 1996, Berkland was suspended from his position as Medical Examiner in the State of Florida.  Yet in  2001, he was issuing reports on Klausutis' death that were questionable if not outright false.
He was then fired in 2003 for not completing autopsy reports.
Further the man was arrested in 2012, for storing human body parts in a Florida storage unit in containers  filled of formaldehyde and methyl alcohol.
Berkland was charged with – improper storage of hazardous waste, keeping a public nuisance and driving with a suspended license according to CBS News.
Which not only does Berkland's work ethic come into question whether he was competent enough for the autopsy but also the man's sanity keeping remains of deceased humans why would anyone do that? Organ trafficking? But that's a story for another day.
Back to the death of Klausutis knowing this medical examiners shady history you may find it interesting that the autopsy of Klausutis makes no reference to the time of death according to a now deleted copy of the autopsy report.
Then there is Scarborough's alleged odd behavior on a radio show years later after Klausutis death in 2003.
On May 29, 2003, Scarborough appeared on Don Imus's radio show where he made the shocking admission about killing his intern. While complimenting Scarborough on his sense of humor, Imus said, "Don't be afraid to be funny, because you are funny. I asked you why you aren't in Congress. You said that you had sex with the intern, and then you had to kill her." Scarborough laughed and replied, "Yeah, well, what are you gonna do?"
The audio from the only known recorded upload is curiously "missing" and the page for the archive.org page is also dead. However, I was able to dig up the oldest date of existence for this claim from 2004 from the Democrats own website.
If true this is a tasteless "joke" that had it been made today would have instantly gotten the attention of social media and ruined both men's careers.
Author and film maker Michael Moore also accused Scarborough of killng his intern when he  "registered the domain name JoeScarboroughKilledHisIntern.com," and was later sued for his action.
i'll let you draw your own conclusions by the amount of information provided herein. In no way am I personally suggesting that Scarborough killed his intern, in fact, someone of his stature would have that job done for him. I am simply stating that her death is suspicious in my opinion and many things don't add up.
https://steemit.com/politics/@an0nkn0wledge/the-curious-case-of-the-death-of-joe-scarborough-s-intern-lori-klausutis