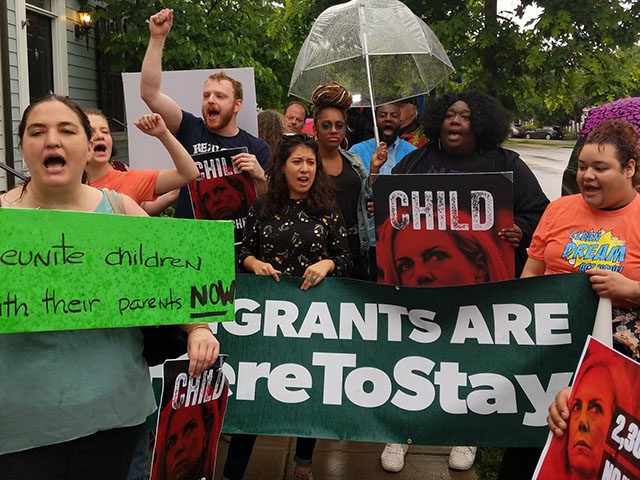 Protesters descended on the Alexandria townhouse of Homeland Security Secretary Kirstjen Nielsen Friday morning, demanding the Trump administration reunite illegal immigrant families at the U.S.-Mexico border.
Demonstrators were heard chanting  "free the kids" and"no justice, no sleep," according to HuffPost's Philip Lewis. Many people in the crowd carried signs bearing Nielsen's likeness, captioned: "CHILD SNATCHER."
Protesters shouted "Shame!" as Nielsen walked from her home to her security detail.
Secret Service officers monitored the nearly hour-long demonstration, according to FOX 5 DC.
The demonstration outside the Secretary's home comes days after members of the D.C. chapter of the Democrat Socialists of America drove Nielsen out of a Mexican restaurant on Tuesday. "No borders! No walls! Sanctuary for all!" the activists shouted as she ate at MXDC.
"Aren't you a mother too?" The far-left agitators asked Nielsen. "Kirstjen Nielsen, you're a villain! Lock her up!"
Nielsen eventually vacated the restaurant amid fears the situation would escalate.
She was also targeted by actor Peter Fonda, who shared a violent and sexually degrading fantasy about the Trump Cabinet leader Tuesday night. "Kristjen Nielsen is a lying gash that should be put in a cage and poked at by passersby," Fonda tweeted. "The gash should be pilloried in Lafayette Square naked and whipped by passersby while being filmed for posterity."
On Wednesday, President Donald Trump signed an executive order aimed at preventing the separation of immigrant children from their border-crossing parents.
Nielsen praised the executive action and called on Congress to find a long-term solution to close the border policy loophole.
"We ask them to do their jobs. The laws need to be changed," she said.
http://www.breitbart.com/immigration/2018/06/22/video-protesters-surround-dhs-secretary-kirstjen-nielsens-alexandria-home/