Hell Yes There Were Signs. He Wore A Trench Coat Every Day Damit?
Texas shooting: Suspect Dimitrios Pagourtzis charged as 10 are killed and explosive devices found at high school – as it happened
Ten people were killed after a gunman believed to be a student opened fire at a high school in Santa Fe, Texas, in the latest spasm of gun violence in a country still shaken by the massacre at a Florida high school in February.
Authorities quickly named 17-year-old student Dimitrios Pagourtzis as their suspect. Later in the day he was charged with capital murder – for which he did not enter a plea – and was denied bond. He was being held in solitary confinement.
Scenes of grief and horror streamed out of the small community less than an hour's drive from Houston. Stunned and weeping teenagers tried to piece together the mayhem they had experienced. Schools were set to be closed for the start of the following week, with the FBI saying Santa Fe High School and the surrounding area would remain a closed crime scene "for some time".
Authorities said the assailant appeared to have obtained his weapons – a shotgun and a revolver – from his father, who possessed them legally. Explosive devices were found both at the school and off campus, Mr Gonzalez said.
Court documents said the suspect admitted to authorities having carried out the shooting "with the intent of killing people" and said he spared the lives of students he liked so that "he could have his story told".
Writings in the suspect's journals that indicated he wanted to take his own life, Texas Governor Greg Abbott said.
"We also know information already that the shooter has information contained in journals on his computer and his cell phone that he said that not only did he want to commit the shooting, but he wanted to commit suicide after the shooting," he said.
"As you probably know, he gave himself up and admitted at the time he didn't have the courage to commit the suicide, that he wanted to take his own life earlier," Abbott added.
Some fellow students described him as quiet. He also played on the school's American football team.
President Donald Trump called the shooting heartbreaking and said that federal and local authorities were coordinating in the wake of the gun attack.
"My administration is determined to do everything in our power to protect our students, secure our schools and to keep weapons out of the hands of those who pose a threat to themselves and to others," Mr Trump said at the White House.
As the day unfolded, Democratic elected officials said the latest shooting again proved the need for tougher gun laws. They were joined by teenage survivors of the Florida shooting who have turned into vocal fun control advocates.
While Mr Abbott said he intended to convene a series of public meetings to find "solutions" that would prevent more shootings, he did not elaborate on details.
https://www.independent.co.uk/news/world/americas/texas-shooting-live-updates-santa-fe-high-school-fatalities-today-latest-dead-victims-a8358131.html
USA Today Demonizes AR-15 After Reporting Santa Fe Gunman Used Revolver, Shotgun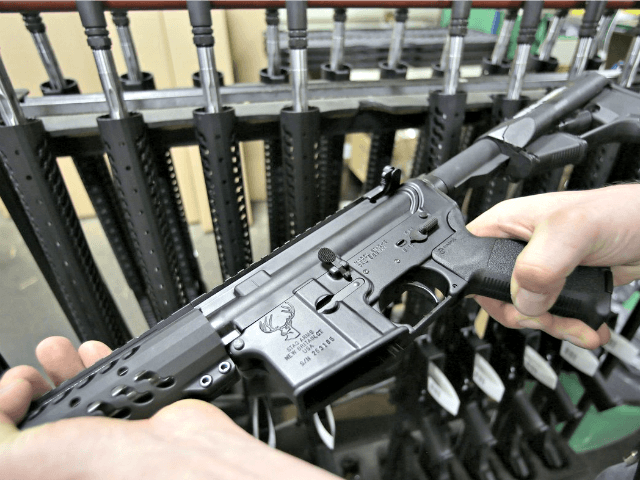 USA Today demonized the AR-15 on Friday after reporting that the Santa Fe High School gunman used a revolver and a shotgun in his attack.
The paper referenced Gov. Greg Abbott's (R) statement that the Santa Fe High School attacker used "a shotgun and .38 caliber revolver, both of which he got from his father."
The article added, "The guns may have slowed down the gunman's deadly rampage because they have a slower firing rate than firearms used in other recent mass shootings, such as the AR-15."
USA Today continued, "High-powered rifles such as the AR-15 can be fired more than twice as fast as most handguns. The standard magazine for an AR-15 holds 30 rounds, allowing a shooter to continue firing uninterrupted for longer, making the weapon more lethal than other firearms."
A few clarifications are in order: 1. A semi-automatic handgun can be fired as fast as a semi-automatic rifle. There is no magic quality about an AR-15 that makes it easier or quicker to fire than a semi-automatic pistol. 2. The Santa Fe gunman used a revolver, which is not semi-automatic, to begin with. However, granting that it was a double-action, it, too, can be fired as quickly as an AR-15. 3. A shotgun, which the Santa Fe gunman also used, is far superior to an AR-15 in close quarters. USA Today belatedly alluded to this by adding, "Clearly the use of any gun can be deadly, especially a shotgun at close range."
Later in the article, USA Today reported, "Many of the deadliest mass shootings in recent years involved high-powered rifles, notably AR-15 styled rifles. But far fewer have featured shotguns or a revolver as the primary killing weapon."
On April 3, 2018, Breitbart News listed 25 of our nation's most prominent mass public attacks, and AR-15s were used eight times. The predominate weapon was a handgun, used 17 times. Shotguns were used in four of the incidents. The Santa Fe attack raises the use of handguns to 18 and shotguns to five, while AR-15s remain as the weapon of choice on eight occasions.
http://www.breitbart.com/big-government/2018/05/19/usa-today-demonizes-ar-15-reporting-santa-fe-gunman-used-revolver-shotgun/